講演会「Challenges of Peace Process in Afghanistan」を開催します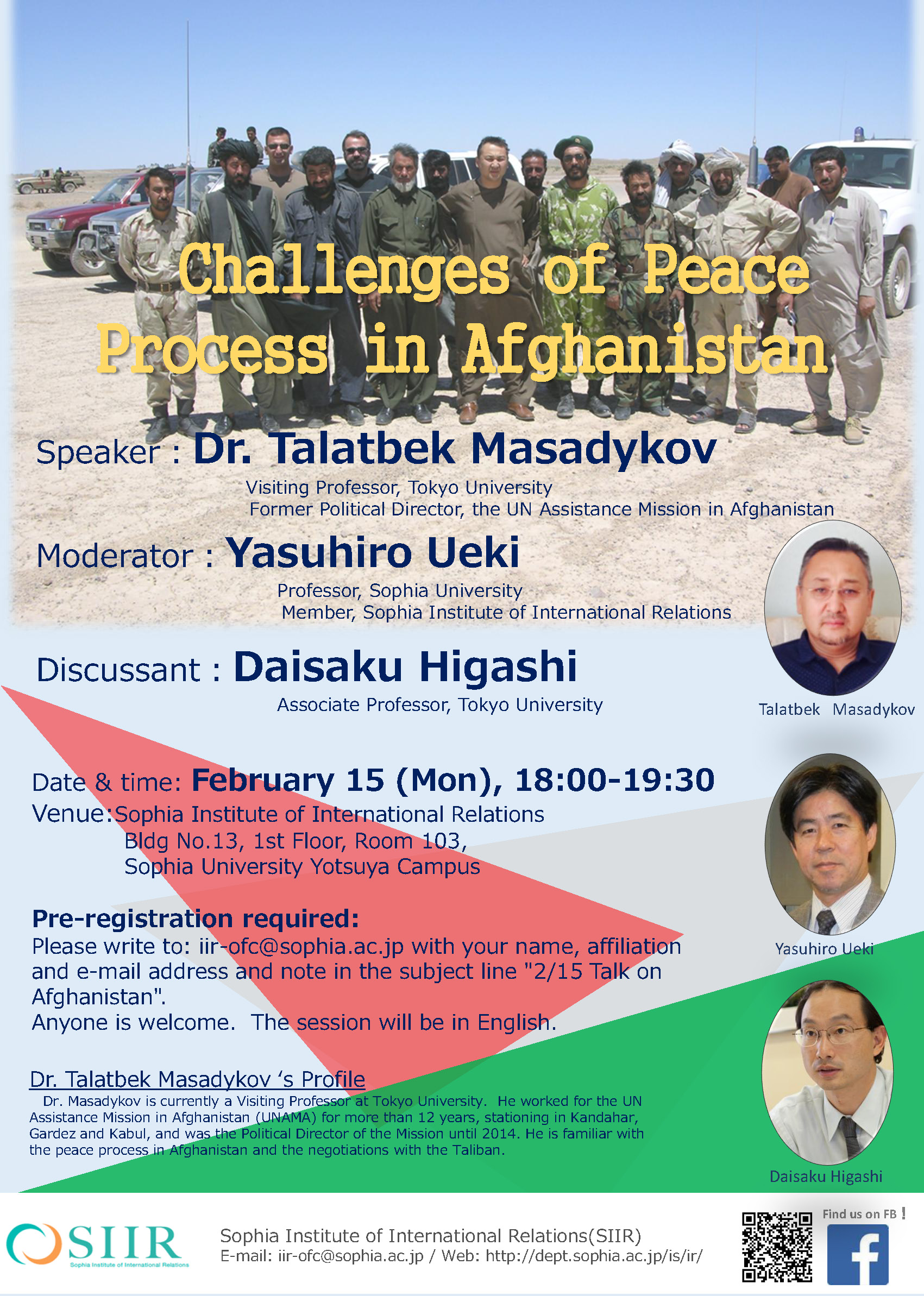 「Challenges of Peace Process in Afghanistan」
Date & time: February 15 (Mon), 18:00-19:30
Venue:Sophia Institute of International Relations
Bldg No.13, 1st Floor, Room 103,
Sophia University Yotsuya Campus
Speaker:Dr. Talatbek Masadykov
Visiting Professor, Tokyo University
Former official of the UN Assistance Mission in Afghanistan
◆Dr. Talatbek Masadykov 's Profile
 Dr. Masadykov is currently a Visiting Professor at Tokyo University.
 He worked for the UN Assistance Mission in Afghanistan (UNAMA)
for more than 12 years, stationing in Kandahar, Gardez and Kabul,
and was the Political Director of the Mission until 2014. He is familiar
with the peace process in Afghanistan and the negotiations with the Taliban.
Moderator:Yasuhiro Ueki
       Professor, Sophia University
       Member, Sophia Institute of International Relations
Discussant:Daisaku Higashi
       Associate Professor, Tokyo University
Pre-registration required:
Please write to: iir-ofc@sophia.ac.jp with your name, affiliation,
e-mail address and note in the subject line "2/15 Talk on Afghanistan".
Anyone is welcome. The session will be in English.
▼Contact:
Sophia Institute of International Relations(SIIR)
E-mail: iir-ofc@sophia.ac.jp / Web: https://dept.sophia.ac.jp/is/ir/
イベント・ニュース