講演者:Diane Massam (University of Toronto)
演題:Varieties of nothing: Null arguments in Niuean
Diane Massam (Ph.D. MIT 1985) is Professor Emeritus in the Department of Linguistics at the University of Toronto, where she has also served as Chair. She researches argument structure, case, predication, and word order, with a focus on the Niue language and on register in English. She has published extensively in journals and edited volumes, and has edited volumes on Austronesian syntax, ergativity, register variation, and the count-mass distinction. Most recently, she co-edited the Oxford Handbook of Ergativity. She has been an Erskine Fellow at the University of Canterbury, honorary research fellow at the University of Auckland, and visiting professor at Harvard University. She currently holds a SSHRC research grant on Niuean argument structure, and serves as President of the Canadian Linguistics Association.
講演要旨: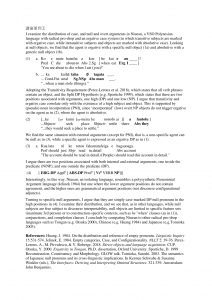 講演者:Yves Roberge (University of Toronto)
演題:Null objects: Theory and acquisition
Yves Roberge (Ph.D. UBC 1986) is Professor of linguistics in the Department of French at the University of Toronto. His research focuses on argument structure, pronominal systems, and recursion in Romance languages, and on their development in first language acquisition. He has published extensively in professional journals and has authored and edited several books, including The Syntactic Recoverability of Null Arguments (McGill-Queen's University Press, 1990) and Direct Objects in Language Acquisition with Cambridge University Press (2017). He is the recipient of a National Achievement Award from the Canadian Linguistic Association and received a Faculty of Arts&Science Outstanding Teaching Award. He is currently co-investigator (with Ana Pérez-Leroux) in a SSHRC-funded research project on the development of noun phrase complexity in children. He served as Principal of New College at the University of Toronto from 2010 to 2017.
講演要旨: