ABOUT US
Greetings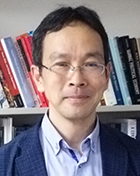 Tadashi Anno
Professor, Faculty of Liberal Arts
Director of SIIR
For more than a century since its founding in 1913, Sophia University has built its reputation in no small part on its role as a bridge between Japan and the rest of the world. International relations has been a major pillar in Sophia's research and education for nearly 50 years. The Institute of International Relations (IIR), founded in 1969, was one of the first university-affiliated research institutes on international relations in Japan, and played a major role in advancing Japanese research on international relations until it was disbandied in 2003.
SIIR was established in July 2015 to revive and further develop this tradition, and to serve as Sophia's research hub on international relations.
A time of tectonic shifts and great uncertainties in international relations requires new, innovative thinking. As an academic research institute, our task will be to provide broad perspective informed by historical and theoretical research, to raise new questions, and to provide new perspectives on international relations, particularly of Japan and in the Asia-Pacific region.
In collaboration with researchers and with practitioners around the world, we will host a variety of talks, symposia, and other events, undertake and support research projects, and publicize the results in the forms of publications and lectures, seminars, and symposia.
We very much appreciate your support and cooperation.
ABOUT US
Greetings