Message from the Dean
While you are with us we desire that you communicate your radiance to all, and later soar out into the world beyond.
Building on its practice of global education spanning 100 years, Sophia University has established a distinctive perspective along with a firm body of know-how, systems, and networks, preparing high-caliber graduates for jobs in workplaces all over Japan and the world. We are pleased to announce the founding of the new Faculty of Global Studies, dedicated to the training of "global professionals" equipped with the interconnected perspectives of global and local.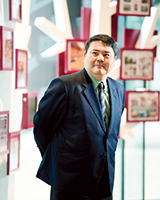 Through its usage of global learning over the past century, Sophia University has succeeded in attaining an endorsement of its specific vision and modus operandi, a widening of its worldwide links, and the dispatch of high-level personnel to serve in areas within and beyond the nation. Such efforts have been duly realized and enhanced, and furthermore, with a view to train skilled professionals oriented to both global and local issues, we created in the year 2014, the new Faculty of Global Studies.
The training and inquiry offered by the Faculty of Global Studies involves a blend of International Relations, a discipline that oversees events and occurrences in the world at large, and Area Studies, which strives to maintain a caring eye over the lives of inhabitants in a multitude of areas, dispersed throughout the globe. This blend has been presented in the form of a new branch of study, namely Sophia's distinctive 'Global Studies.'
So far we have never envisioned forming a curriculum, wherein a student is simultaneously oriented to both global and local issues. That is to say, what we have now done is to take the initial step, in our university's journey into the coming century of global education.
The faculty has 26 fulltime professors, and in addition it is blessed with a lengthy tradition, wherein the professors have all been involved in research and education oriented to the dual fields of International Relations and Area Studies. Starting with International Relations, we have in the past sought to welcome experts gifted in a variety of fields both from Japan and abroad. Accordingly, we are now possessed of a teaching staff rich in ardor and cheer, with reference to both research and education.
The fact of our now being in the third year since our faculty was established indicates that we have traversed well over half our road to completion, and we are happy to note that during this period, the spirit of camaraderie existing between our students of distinct academic years, has been happy and energetic.
We wish to persistently and repeatedly evoke within the minds of our students the query as to what it is they truly wish to do, and the steps they need to take in order to realize their desires.
The Faculty of Global Studies is not for those who are content in merely receiving in an apathetic way whatever is taught to them. Rather, a posture of struggling for and challenging is what we expect, and we have hence created a framework to offer positive assistance to students such as these.
Today, incidents we observe within Japan and the rest of the world are intimately linked to a multitude of global issues, which are concurrently occurring around us.
It is those endowed with a capacity to view the workings of society and the flux of ages in a composed, all-embracing, and solicitous manner, who will prove efficacious in serving in areas of the world that are in need of specialists, regardless of whether such areas be located within or outside our nation.
It is students like these that the Faculty of Global Studies is intent upon nurturing, and it is through their reasoning and vigor that it seeks to convey the profundity and scale that it wishes to imbue in its teaching.