Faculty of Global Studies
Concept: Cultivating a perspective both global and local—training students to be professionals who know how to find answers and give realistic shape to solutions.
The Faculty of Global Studies (FGS) is composed of just one department, namely the Department of Global Studies, and at FGS the fields of International Relations and Area Studies are integrated to form a triad for the pursuit of Global Studies. International Relations focuses on world movements viewed from a global or bird's-eye perspective, yet most problems arising on the local level are also linked to global phenomena. Uniting the global and local perspectives enables us to view the world comprehensively, and comprehend it with a superior level of clarity. This is a new multidisciplinary field of study befitting the uniqueness of a university such as Sophia.
What we aim for
FGS nurtures students endowed with both a global and local perspective. They are trained to identify concrete solutions to problems, tackle them in a practical manner, and work for and in collaboration with others. Regardless of whether such issues arise in the context of doing business in Japan or abroad, or for governmental, non-governmental, educational, or other organizations, and regardless too of whether the concerned issues be manifest or latent, our graduates acquire the ability and know-how to confront and resolve them in the manner of professionals. The faculty and staff of FGS are devoted to strengthening their individual capacities as international and public-minded intellectuals, with a view to communicate these qualities to their students who enter Sophia, in order to prepare them for careers around the world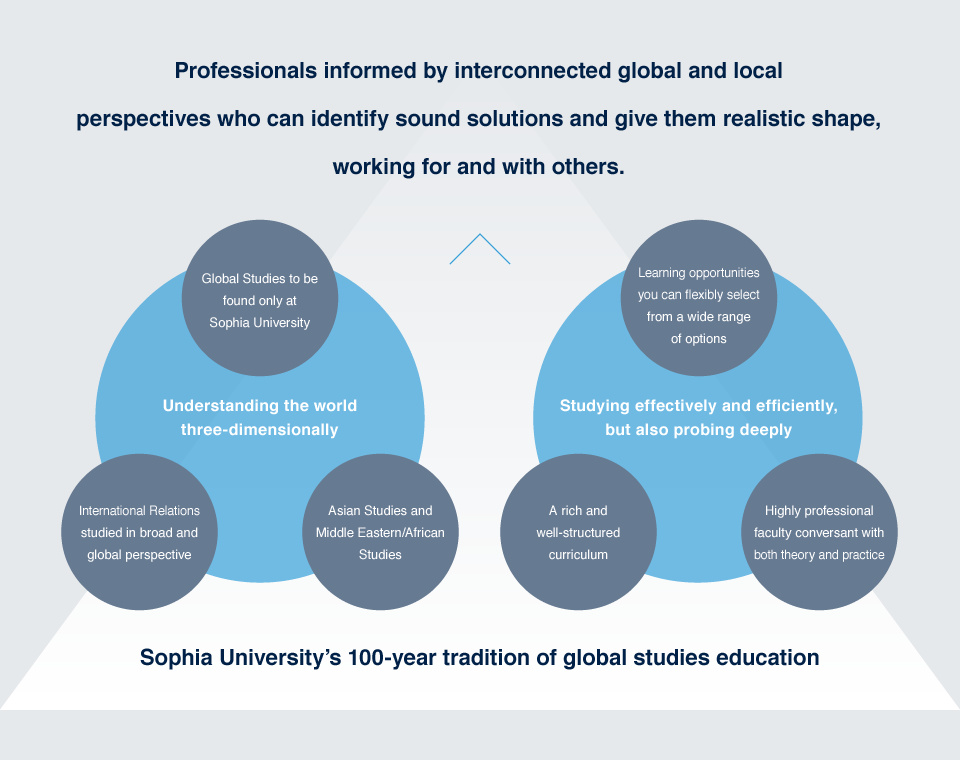 Over a hundred years have elapsed since the founding of Sophia University, and in the Course of these decades the institution has acquired an appropriate framework and body of know-how for the enrichment of global competency, an academic system based on intellectual enquiry and language skills, a multitude of openings for students to study abroad and other such benefits, all rooted in values and perspectives shared with people around the globe.
Taking due advantage of its accumulated experience of a century and more of global education, Sophia is intent on turning out globally oriented and public-minded intellectuals, through the competent and effectual fostering of perceptions and principles that provide an insightful grasp of the world around us.
Understanding the world three-dimensionally
Through a blending of the bird's-eye vision and global insight provided by international relations, and a meticulous enquiry into the livelihood and customs of people inhabiting the manifold areas of the globe, the research and education offered at FGS seeks to pursue an objective comprehension of our globalized world. Such a multidisciplinary approach is indeed well in line with an institution of the uniqueness of Sophia.
Studying with Competence, Tenacity, and a Deep sense of Inquiry
At FGS, students are blessed with chances to acquire knowledge covering an extensive range of possibilities, and in accordance with their personal interests and concerns. A diversified and well-structured curriculum, and faculty members of high professional caliber prove an added impetus to them, spurring them on to ever greater effectiveness and proficiency in their study.